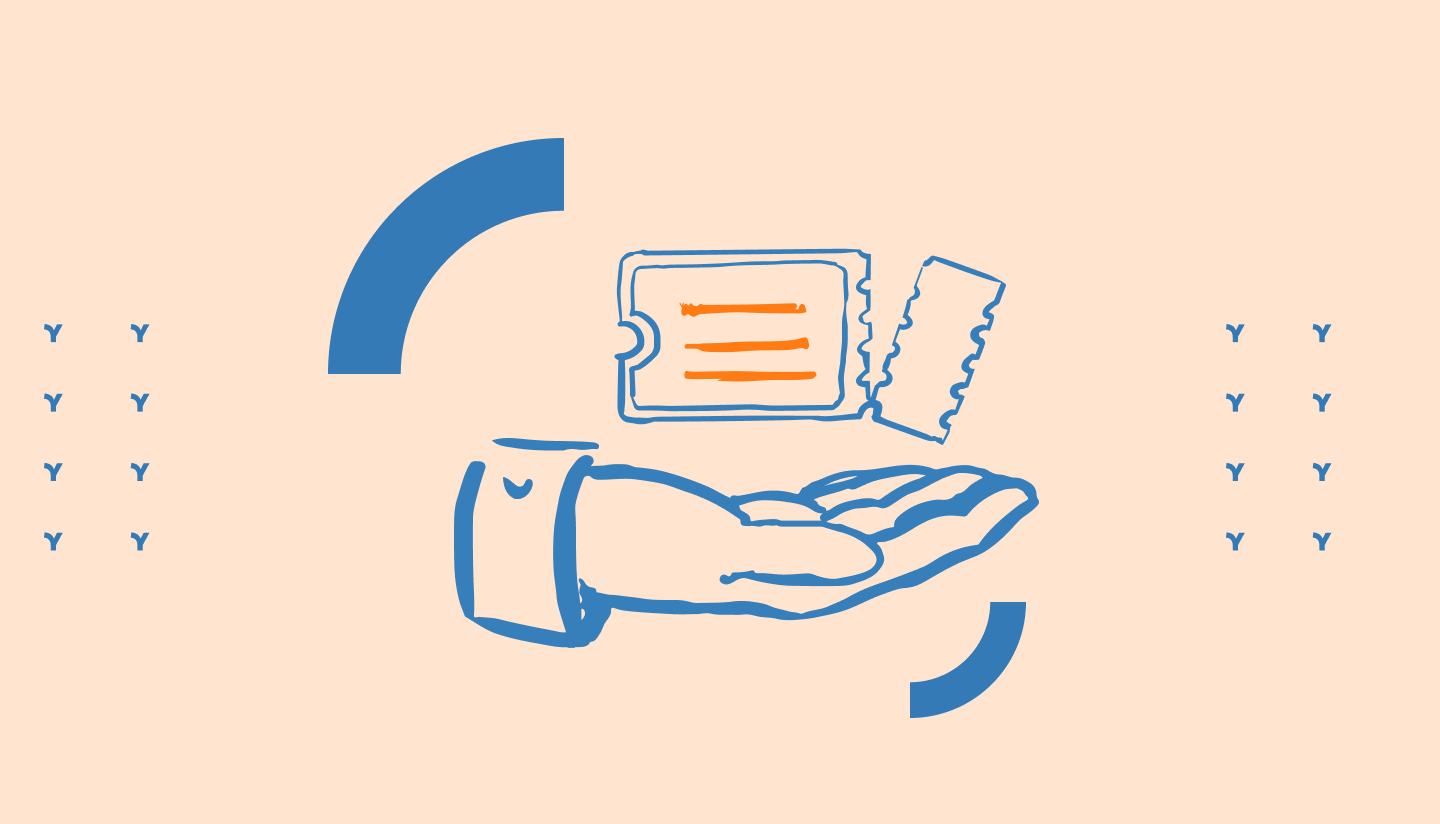 1. Set a good ticket price
How to decide on the ticket price of an event ?
First and foremost, set a realistic ticket price for your event tickets. This is the cornerstone of all other actions you will take to increase your ticket sales.
To find the right balance, start by setting a minimum break-even price at which you won't lose money. To do this, simply calculate:
Minimum ticket price = Total cost of the event / number of expected attendees.
For example, if you are organizing a gala reception that costs $15,000 and you expect 600 attendees, then the minimum ticket price is $25.
To make this calculation, you need to have a good overview of your expenses and a rough estimate of the number of people likely to attend. You now know the break-even price, but the actual price of your ticket will depend on the profit you want to make (if any) as well as your other potential revenues related to this event (grants, sponsors, partners, refreshment stand, etc.).
At this stage, it is essential to keep in mind your competitive position, so you can ask yourself these questions:
Are there other events similar to yours that are priced lower or higher?
Do you have a solid reputation or are you a newcomer to established competitors?
Does your event have any unique factors that set it apart? For example, a famous artist or the best venue in town?
Answering these questions will tell you how much you can charge for the ticket.
Have you considered tiered pricing?
Tiered pricing is a method that consists in offering different ticket packages.
For example, you can offer at least 3 types of rates:
A preferencial rate reserved for your members
An expensive VIP access ticket that allows people to skip the line
A basic ticket with no perks
Be creative and identify the little extras that are relevant for your event. If a popular band is performing at your event, you can charge extra for front row seats. If you're hosting a dinner, you can offer a more expensive "drinks included" option. And so on...
The benefits of tiered pricing, for both you and your clients, are quite obvious. You ensure that the majority of people can afford to attend your event, while getting additional revenue from guests who are willing to pay more.
2. Keep the sales peak as long as possible
The ticket sales cycle generally looks like this: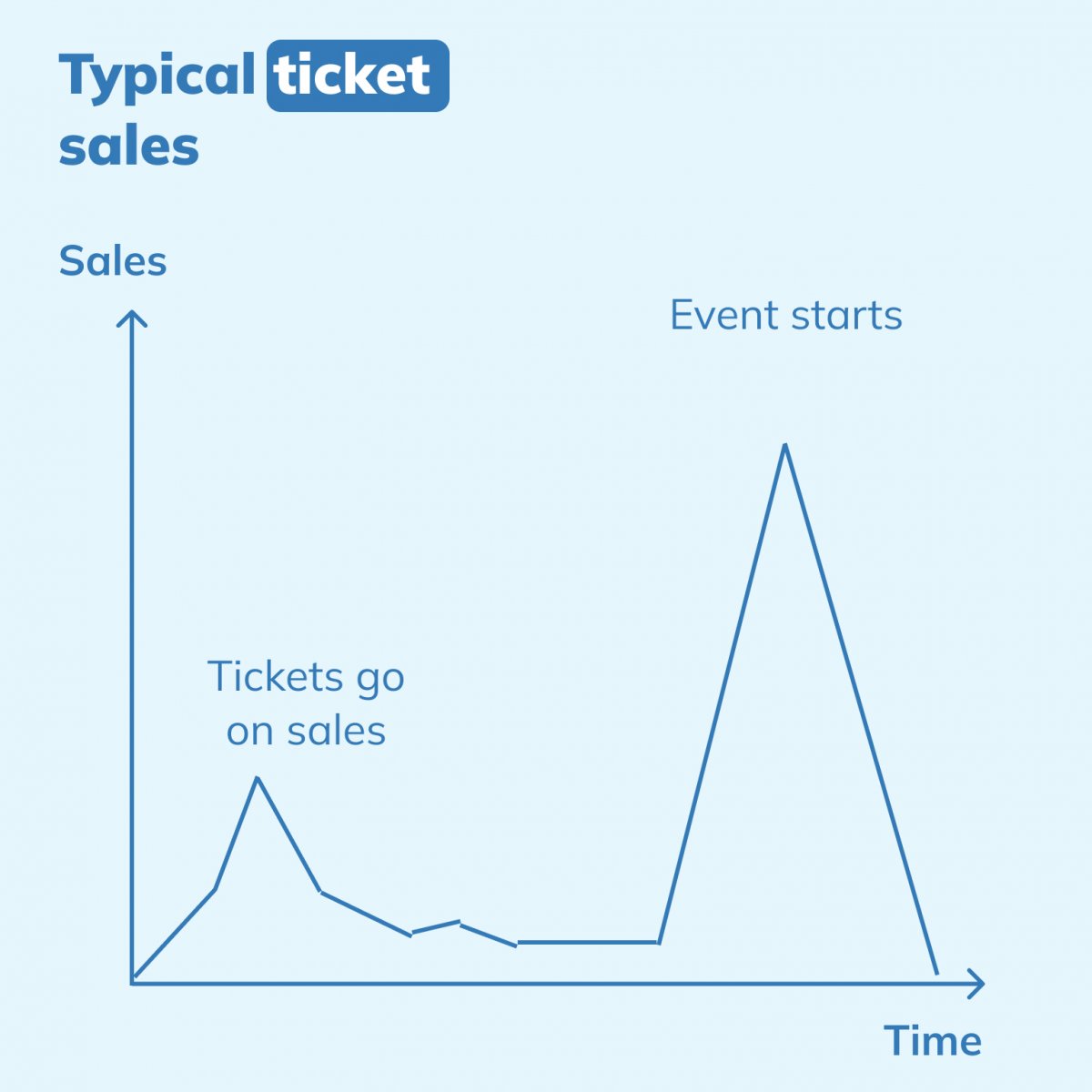 Basically, a bunch of people tend to buy their tickets as soon as they go on sale. Then the rest of the tickets are usually sold in the two weeks before your event. In between, you will most likely experience a small drop in sales.
You don't want to rely on last minute ticket sales to know if you are hitting your sales goals. That's why you need to have a plan to keep the peak going throughout the sales period.
Here are some ways to create "mini-peaks" throughout your sales:
Early access tickets: Tickets with bonuses or discounts reserved for past attendees or your close community (members, donors, partners, etc).
Early bird tickets: Discounted tickets for people who buy within a short period of time after your event goes live.
Offer of the day: Special offers and promotions throughout the sales period.

The key here is to maintain momentum and make sure your event stays top of mind for people. If done right, your sales cycle may now look like this: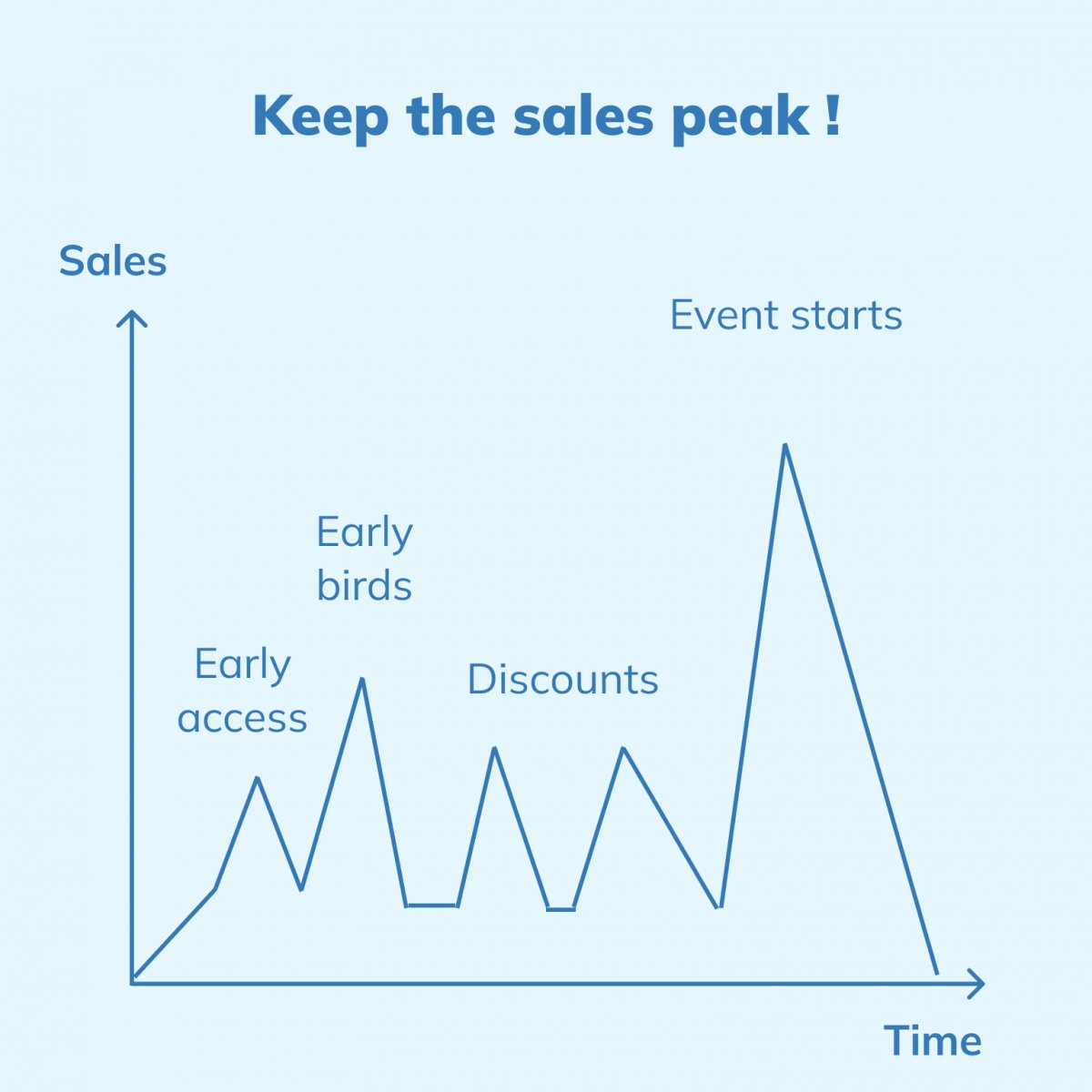 3. Set discounts
Beyond tiered pricing and time-limited offers, it's perfectly fine to come up with discounts to reward people for their actions that help you promote your event.
For example, you can encourage attendees to invite their family and friends by offering group discounts or giving them special access codes for referring other ticket buyers. You might also offer a special price to active members of your organization.
Whichever discount strategy you choose, make sure you can easily track the different offers and make them clear to ticket buyers. You don't want to end up listing dozens of different ticket types on your event page, which can confuse potential attendees.
On Yapla, we offer just that, a feature that enables you to create discount codes on your tickets.
Yapla also allows you to set up the differentiated pricing mentioned earlier. Creating a preferential rate for the members of your organization is very easy. In the context of an event open to the public, this practice is always very appreciated and contributes to the loyalty of your community.
4. Opt for an efficient ticketing system with a simple registration path
Use technology to optimize the registration experience
A quick and easy registration system is key to attracting customers and getting them to attend the day of the live event. Make the registration process a seamless experience.
This is where choosing the right event management platform with a full suite of event marketing features can make a difference.
With the Yapla platform, your attendees can register for your event in less than 5 minutes. The platform has been designed to allow you to build customized events, in your image. Seminars, conferences, trainings, concerts, festivals... With Yapla, you can manage any type of event.
A multitude of possibilities and options are available to you, from the creation of the event to the end of it.
That's why thousands of NPOs such as Finance Montreal or Quebec International are using it.
Create an attractive event page
Once you have defined your pricing strategy, you can focus on the event page itself.
The event page is often the first and only place where people find out about your event and decide to attend. You need to make sure it is both informative and engaging.
Your event page should answer all the key questions about the event: where, when, what, who, etc. By simply writing "The best party in town," you're not giving people much to go on. They will want details and reasons to attend.
As a general rule, your event page should:
Indicate the basic details of the event
Use an eye-catching header image and other relevant media, such as video clips and photos
Include a way for people to contact you
Include a clear call to action - e.g., "Buy tickets"
Be easy to share.
Not sure where to start? Without further ado, check out our short tutorial video.
You can find all the details of the configuration and the different options available here : Create and configure an event with Yapla
5. Send your invitations in advance
An invitation email is the best way to launch an email marketing campaign for your event. You can also opt for a classic invitation card mailing but keep in mind that this technique is costly for your organization and not very ecological.
For a large event, in order to give your guests time to organize and plan, it is recommended that you send your invitations 6 to 12 months in advance. On the other hand, for smaller events such as a dance party, a small cocktail party or a sports tournament, sending your invitations 1 or 2 months in advance is sufficient.
Your invitation should be concise and clear, containing just enough information for your audience to understand the essence of your event:
Name and mission of your event and organization
Date and location
After announcing the details of your event, you need to make sure that your guests can easily contact you. So remember to add your contact information as well as buttons or links to your organization's website and social networks.
With Newsletters function on Yapla, you can easily configure your invitation content and send it to all your contacts in a few clicks. The advantage of Yapla is that your contact database is already consolidated and up to date. So you don't risk forgetting some emails in your mailing list!
This is the tool that Finance Montreal uses to send invitations to its events, for example: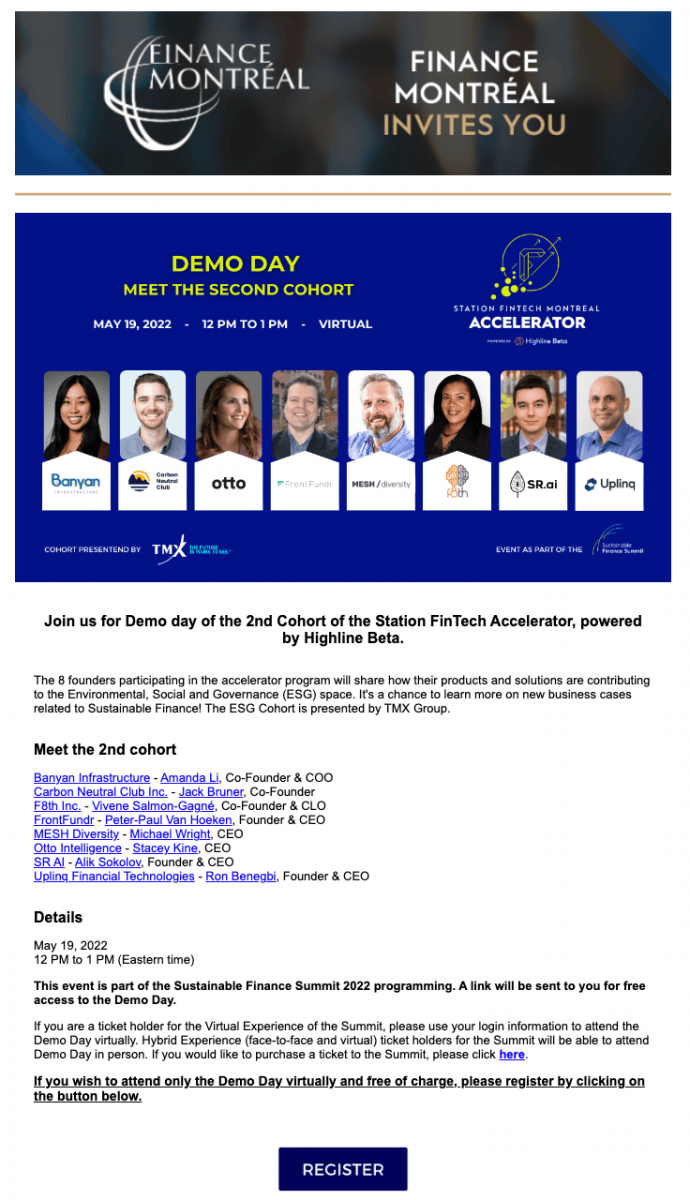 If you opt for paper invitations, think about integrating a QR code that links to your online ticketing service.
How to easily generate a QR code for your organization?
Go to a free QR code website such as QR code Monkey
Enter your ticketing link (for example a Yapla link)
Customize the QR code if you wish (color, shape, logo...)
Download your QR code in PNG format (image format)
Test your QR code!
Add your QR code on your invitation
Print a test invitation to test your QR code again!
Everything works? Print and send all your invitations :)

6. Roll out an email marketing campaign
Email marketing is another way to draw attention to your organization's event. After sending out your invitation, don't hesitate to remind your community that your event is coming up. Provide new information, new interesting details that might convince them to buy their ticket if they haven't already.
The most important aspect of the email campaign should be to direct your audience to your chosen event registration channel. Similar to your invitation email, consider including at least one call-to-action button that redirects to your ticketing outlet or your event page if you have one.
There are different tools on the market to manage email marketing campaigns. Some solutions like Yapla are 100% geared to non-profit organizations.
For example, the organization Quebec International uses Yapla to sell its tickets. In their ticketing system, they set up automatic communications so that all their participants automatically receive the event registration confirmation with their ticket attached: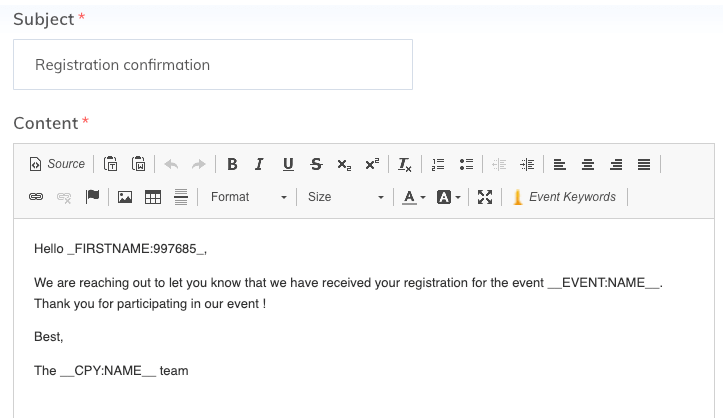 7. Harness the power of social media
Social media is an essential tool that every organization needs to keep the attention of their patrons and gain new support.
If your organization doesn't already have a social media presence, the day before an event is not the best time to start from scratch. It may be better to wait and focus on building your social media presence after the event as part of your organization's overall marketing strategy.
On the other hand, if your organization already has a social media presence, then there are countless opportunities to promote your event!
In the months leading up to your event, be sure to regularly share photos and content about your event.
Content ideas to promote your event on social networks:
Photos and videos of the preparation,
Presentations of the volunteers and people involved,
Program of the event,
Highlighting of partners, sponsors,
Event countdown graphics, etc.
Leave mysteries, create surprises and create surveys to create interaction
The possibilities are endless, let the creative soul in you take on this great content creation assignment!

For example, you should use the Facebook event function to promote your events.

To avoid being overwhelmed, create a content calendar that outlines your goals for each week and schedule all content that fits your goals. Tools that can help you schedule content across multiple social media platforms include Hootsuite, Monday and Meet Edgar. All of these tools offer free options as well as paid analytics and information services.
8. Find partners and sponsors
You can usually find relevant sponsors who will not only cover some of your expenses but also be willing to promote the event on your behalf. In fact, they have a vested interest in helping you sell more tickets. After all, if your event is a success, they get more exposure.
Also, consider partnering with actors and businesses that can benefit from your event. If you host a music festival near a bar, you're also putting a lot of thirsty potential customers in the bar's vicinity. See if the bar is willing to provide a special offer to festival guests and help spread the word.
You can find many win-win opportunities if you look for them.
9. Involve your attendees and build word-of-mouth
Word-of-mouth is often the most impactful in terms of whether or not people decide to attend an event.
This means that existing attendees are probably your biggest advocates and can help increase ticket sales for your event. They just need a push and the right incentive.
Here are some proven ways to encourage attendees to spread the word:
Group discounts: If an attendee can convince three friends to come with them, all four will receive a discounted group rate for their tickets.
Gamification: Set up a reward system where attendees collect points for sharing the event and encouraging their friends to sign up. These points can be exchanged for exclusive products, direct access to the queue, free drinks, etc.
Contests: Similarly, you can have attendees compete for prizes based on their ability to get the most friends to sign up.
You can also give everyone who buys a ticket a special access code that allows their friends to get a better price on their ticket. This is a subtle, non-aggressive way to encourage word-of-mouth.
All of these tactics are especially helpful if you've hosted successful events in the past. Mobilize your past attendees with exclusive contests and rewards to get them talking about your next event.
10. Create a teaser video
Another effective strategy to increase ticket sales is to create a video teaser for the event. The video should be short and cover the basics: What is the event about? Who is it for? Who will be performing or presenting? Answers to common questions about the event.
The purpose of a video teaser is twofold. First, it communicates all the essential details in the most concise way possible. Second, it makes a personal connection by showing the people who are organizing the event.
Now you're ready to accelerate your event ticket sales!
There are many ways to attract attendees. This article identifies a number of best practices you can follow, but it is not exhaustive. Here are the key ideas to keep in mind:
Don't hesitate to test and adopt online ticket sales tools such as Yapla.
Increase your ticket sales with current consumer trends. Don't hesitate to limit the quantity of tickets or the time to buy to create "urgency".
Improve the visibility of your event online using videos or testimonials from former participants.
In order to find the perfect combination of tools and strategies for your sales, don't forget to measure your actions and re-evaluate them regularly.
Find out how Yapla
can help your NPO
Book your personalized Yapla Demo
Solène, marketing manager