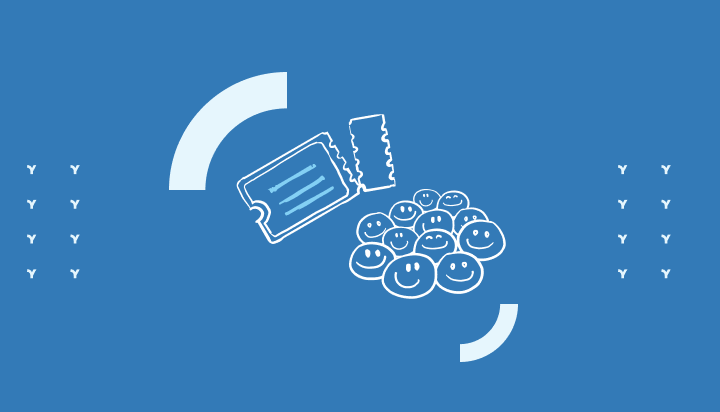 Organizing an event often requires a lot of effort, and recruiting volunteers can help support the event team. However, even as an NPO, you need volunteers with relevant skills and experience to support your event effectively. In this article, we share tools and tips for recruiting volunteers for your events!
1. Identify your volunteer needs
Before you embark on your volunteer recruitment process, it is crucial to identify the specific aspects of your event for which you and the number of volunteers you feel are needed. For example, for an in-person event, you may need volunteers to provide:
Set up and tear down
Tickets and guest registration
Directing the participants (e.g., in the auditorium)
Parking management
Crowd control
Sale or distribution of merchandise
Cleaning
Logistics
Customer service
For virtual events, volunteers are primarily needed for online support, and you may need them to perform certain tasks well in advance of the event dates. Volunteers can fill roles such as:
Email Marketing Support - If you don't use a non-profit CRM, you may need volunteers as marketing assistants to support your email campaigns and their follow-up.
Customer Support Manager - This could be answering questions about your event platform or providing technical support to attendees during the event.
Demo Audience - You may also need to recruit volunteers to serve as audiences while testing your virtual event platforms to identify potential technical issues.
Tool - Canvas to identify your volunteer needs
The following chart is designed to help you identify your volunteer recruitment needs. Fill in each box to get an overall picture of your needs before you begin your search.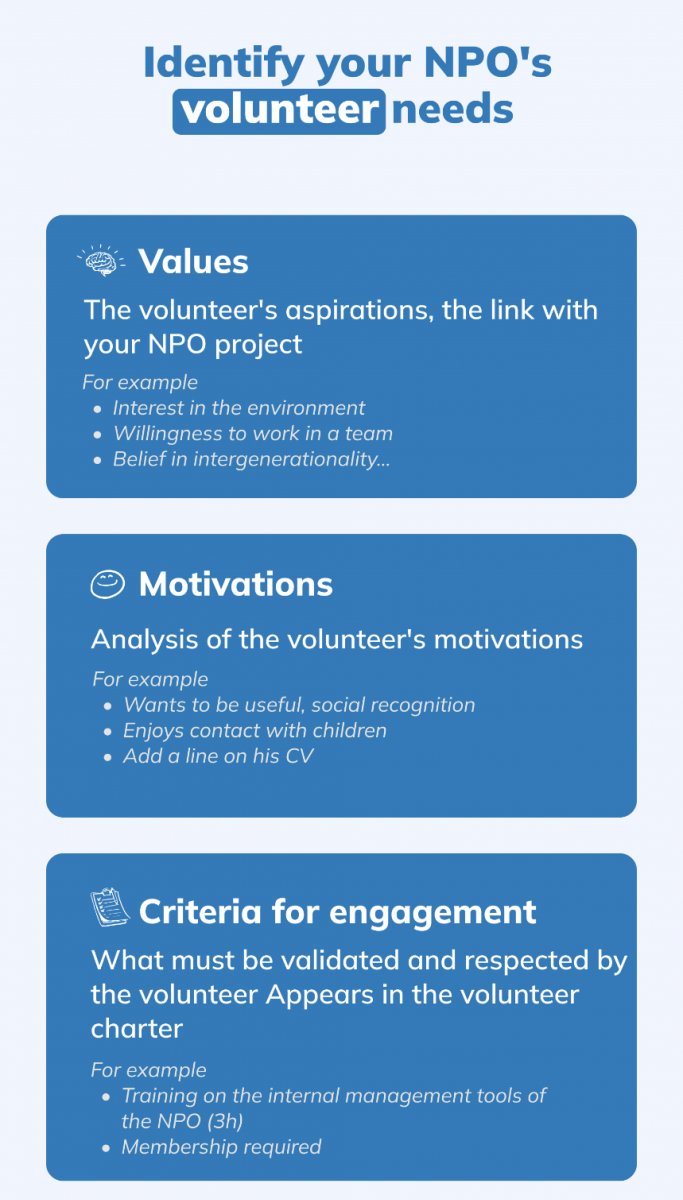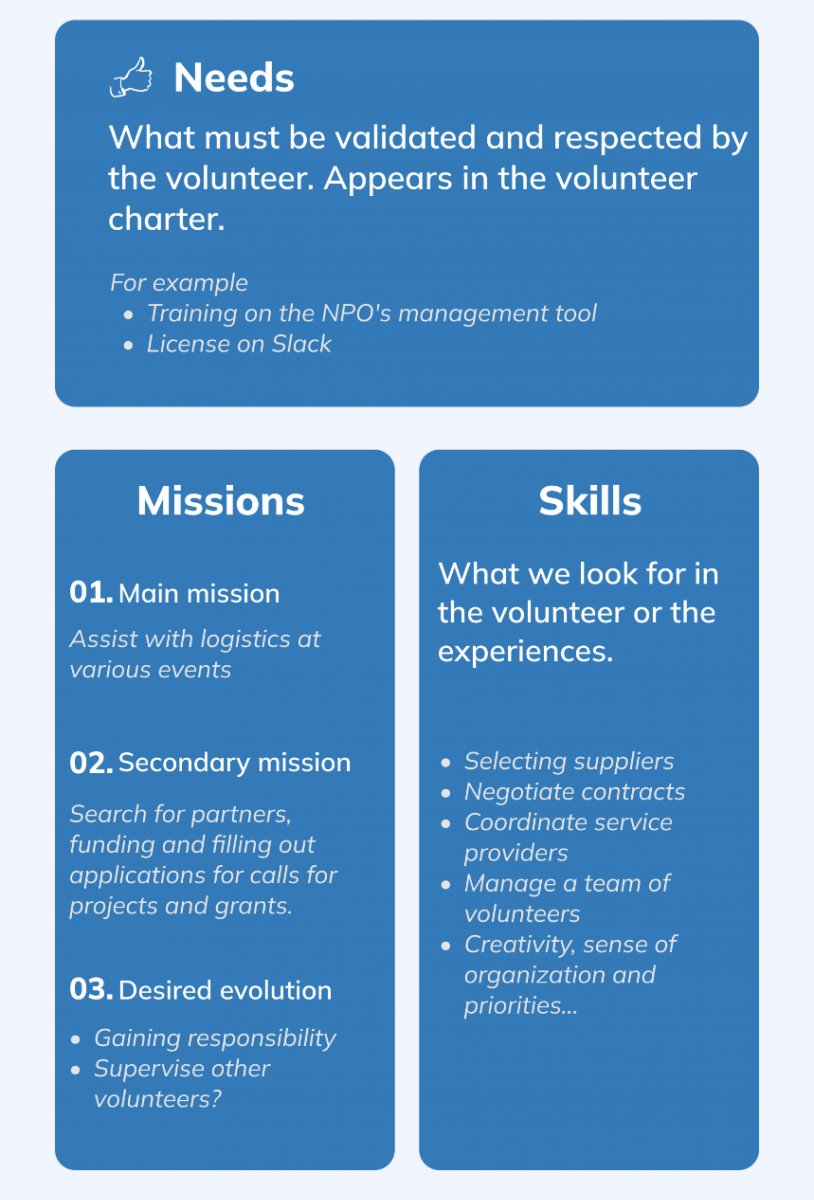 2. Understand who volunteers are and what their expectations are
Volunteers are effectively unpaid employees and they think carefully before committing to an organization or event. Therefore, to attract and recruit the best volunteers for your event, you need to understand what motivates them.
Increasingly, volunteers are seeking personal or professional fulfillment through volunteering. Among the motivations of volunteers we often find the desire to be useful, the desire to meet new people and to have a good time.
It is also good to know that volunteers of all ages often want more responsibility in their organization.

Present your NPO in a way that makes volunteers want to join you
Volunteers will learn about your NPO before joining you. It is therefore important that the information is accessible but also that the image of your NPO is appealing.
Today it is very important to have a website to ensure visibility. You can create one with many available tools, such as Yapla for example. Feed your social networks. Depending on your target audience, you can be present on certain social networks: Facebook in general, but also Tik Tok if you address young populations.
Remember to describe your NPO project in a clear and concise way. Then, make sure that it is up to date on your website, your social networks or your different presentations of your NPO.

In this presentation, you must show the project, the cause defended or the target audience and make a unique presentation.
Give your NPO a visual identity, if this is not already the case:

Make sure you always use the same colors and your logo at the right size so that people can recognize you
Use good quality logos and visuals to make people want to see you
Always adopt the same tone when you speak
3. Create specific volunteer jobs
After identifying the needs of your event and the expectations of volunteers, the next step is to create specific positions and determine how many volunteers you need for each position.
Create volunteer job function sheets
In order to do this, you will need to create job sheets that will be useful when creating your volunteer opportunities. The job sheet is a sheet intended to remain internal to your NPO and contains the main information
Role of the volunteer
Key skills
Equipment and training needed
This job description is essential because it will help you write a convincing description of volunteer opportunities.
Writing volunteer opportunity ads
Your job description is one of the building blocks of your organization's volunteer recruitment strategy. You want it to be concise, clear, inspiring, transparent and direct.
Make sure your ad descriptions include:
eye-catching keywords
a reminder of the project
skills, knowledge and experience needed
desirable qualities
location preferences
time commitments
When writing your ad, consider highlighting the various benefits so that potential volunteers know what they have to gain. Here are some ideas for incentives for volunteers at events:
Unlimited access to the event
Complimentary food and drink
Certificate of participation or letter of recommendation
Friendly team event after the event
You can offer any other incentives that will appeal to the type of volunteers you are targeting. Give them enough reasons to want to volunteer for your event rather than another events scheduled at the same time.
4. Organize your volunteer search
There are many ways to let the world know that your association is recruiting volunteers. However, communicating from all over the place in a mass mode does not guarantee the effectiveness of your search. It is better to communicate selectively to have a better impact.
Here are some ideas of where to find volunteers :
Email your existing volunteer database. If you have used volunteers in the past, use your resources and contact them first!
Talk to your colleagues and partner organizations. Ask for referrals from colleagues in the sector who have used volunteers in the past.
Ask your past participants. Consider using your event alumni as volunteers during your event. Since these people are already familiar with your event and its content, they may be ideal for your needs. This will enable you to advertise your event in the process.
Use volunteer database platforms. Volunteer databases are websites or software that connect volunteers with the nonprofits that need them.
Put out a call on social media. Use Facebook, Instagram, Twitter, and your usual social networks to announce your volunteer search. You can publish the appeal for volunteers on your website, and post it directly to social media with a link to your site with more information.
List your offer on other sites and forums. Place a wanted ad on popular job boards or forums that volunteers often visit.
5. Implement a volunteer recruitment process
The more organized you are in your recruitment, the more likely you are to recruit the best volunteers for each available position.
Your recruitment process can include these steps:
pre-qualification of candidates
meeting / interview
selection
training
integration
Pre-qualify your candidates
You can design a quick and easy questionnaire to be filled out by each volunteer candidate. This questionnaire should help you identify their main skills, the areas they wish to serve and the reasons why they are interested in volunteering at your event.
Feel free to ask any other questions you may have.
Don't hesitate to ask any other questions that would allow you to identify their strengths and conclude whether they are a good fit for the positions available.

Set up interviews
Pre-screen candidates based on their answers to the questionnaire and offer them a short interview. You can meet in person or even by video conference using tools such as Google Meet, Skype or Zoom. The goal of this meeting is to learn more about their preferences and skills to help you decide where each candidate might fit into your organization.
Train your volunteers
After your various interviews, make your selection and inform the volunteers of your choices. Set a date for any training your volunteers will need to attend.
The integration of volunteers should not be overlooked. A volunteer who develops a sense of belonging to the group that your NPO represents will naturally be more invested in his or her role.
On the other hand, it is important to keep in mind that a proud and committed volunteer can become your best ambassador! Volunteers and members in general are your principal spokespersons. They can be a very effective communication relay for your needs in terms of recruiting other human resources, promoting your events or more broadly looking for sponsors, donors, etc.

Integrate your volunteers quickly
Volunteers often need to get into action quickly, which considerably increases the feeling of belonging to your NPO.
Keep in mind that what you take for granted is not obvious to new volunteers. Do not be afraid to give too much information. On the contrary, it is reassuring.
That's why it's a good idea to have a simple to-do list when your volunteers arrive:
Invite volunteers to Whatsapp, Discord, Facebook groups...
Ask the newcomers to introduce themselves to the rest of the group.
Ask them to go and like the Facebook page or add themselves to the collaborators on LinkedIn for example.
Create times for getting together: team presentation meeting, a team game in person or remotely, allow each volunteer to present his or her actions, this allows to value the volunteers already on mission.
Make an organization chart available. This is the best way for new volunteers to see who is who and who does what in the organization.
Plan a training session: present the tools and software you use, context of the NPO, its history, its origin, the objectives or the proposed activities...
Build a knowledge base: Make video tutorials for the use of software, give access to the minutes of meetings, activities ... This promotes the autonomy of volunteers who do not dare to ask you too many questions and who want to do well.
Have a time for exchange on the volunteer missions: review with the volunteers their expectations and availability, be attentive to their needs and desires.
Set up a feedback report to continuously improve the reception and training of volunteers.

6. Organize the volunteers so that they are operational and efficient on the event
Once recruiting is complete, be sure to prepare and organize the volunteer teams for their roles. There are several things to do before the day of the event but also after the event. Here are some ideas to consider:
Before the event
Create synergy between your members and volunteers. Designate a central person who coordinates volunteers and assigns them their respective tasks. If volunteers will be working with a staff member, let them know who they are working with.
Let your members know that they will be working with volunteers and give them guidelines on what they can assign to volunteers.
To prepare for the event, give volunteers a dress code or provide them with kits in advance if possible. Also, specify arrival times on the day of the event or login times if it is an online event.
On the day of the event
Re-introduce volunteers to the tasks they will be doing on the day. Help them see their role as integral to the success of the event and motivate them to do their best.
Re-explain the event guidelines and best practices to your volunteers, and then assign each volunteer their specific tasks. If there is an absentee, make up for it with a "back-up". Ideally, have additional volunteers on standby to fill any voids in such a situation.
After the event
Debrief participants, show appreciation for their work, and ask for feedback on their experience. Ask them what challenges they faced and if they were able to achieve their goals. Acknowledging successes and accomplishments is a great way to build long-term volunteer loyalty.
You can organize a small party after the event to thank them and make them want to come and support you again next time.
Also, consider measuring the return on investment of your volunteers. Ask yourself if it was worthwhile to recruit volunteers and what you can do better to make the most of the program in the future.
Based on your review, feel free to evolve volunteer roles and responsibilities. This is a great way to keep volunteers engaged with your NPO.
In an nutshell!

Before you embark on any recruitment process:
Keep in mind that volunteer expectations and recruitment practices are changing!
Take stock of your volunteer needs for your event but also for your NPO in general
Clarify the tasks, the positions to be filled as well as the organization of your event and your NPO.
To recruit the best volunteers for your organization:
Structure your search and try to establish a short, simple but effective recruitment process if one does not already exist (you have a better chance of making a successful small dish in the kitchen by following a recipe than by letting your imagination run wild!)
Diversify your recruitment channels and communicate, internally and externally

Find out how Yapla
can help your NPO
Solène, Marketing Manager