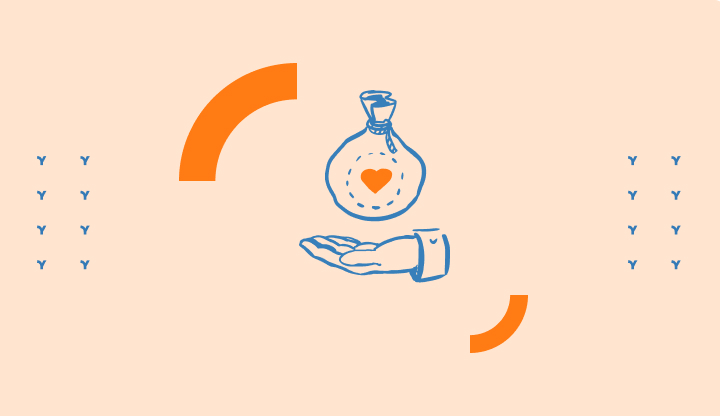 The approach of year-end often rhymes with the search for funding and more specifically donors.
That is why we are sharing these tips with you, all of which come from NPO managers, to best prepare your year-end campaigns.
Ready? Let's fundraise!
1 - Make it easy for your donors
The easier and faster it is to make a donation to your organization, the more likely you are to raise funds!
Online donations offer great convenience to NPOs and donors alike. Donations can be made anytime and from anywhere. During breakfast, on public transport, in Montreal or Bois-Francs... There are no more time and space limitations for your donors.
There are many tools and platforms to create an online donation campaign. Marc Chenier, from the Franco-ontarienne Foundation decided to choose Yapla:
"Yapla allowed us to bring together all aspects of philanthropy in terms of tools through our website. In the past, we had to use several cloud and server-based software applications, which was costly and we were not able to keep up with the coordination required to use all these tools. Now we have a single cloud window of opportunity. Everything is done automatically as long as we have an email address."
The good news is that you don't have to have a website to have an online donation page.
2 - Prepare effective communication
Good communication to your donors is essential. 75% of citizens would like to know the real results of their charitable donations.
Launching an effective and impactful donation campaign can take a little creativity and preparation up front.
For example, you can do an email campaign to your contact base. Remember that it is easy to miss an email in your inbox. You can therefore schedule several emails, removing those who have already donated from the mailing list each time.
You can use this example to help with your fundraising campaigns.
Subject line: Make it possible for underprivileged children to go on a trip!
Message:
Dear [Name],
Every year, we help underprivileged children go on vacation. This year we have chosen to take them to [name of destination]. The cost of a trip is [trip price] per child . So if you would like to help us and participate in this great project, make a donation by clicking below.
[Button that links to the donation form].
Thank you in advance!
[Photo of the trip from the previous edition]
3 - Leverage your community and spread your campaign widely!
Your organization's members, your employees, your partners... they are all probably the first promoters of your donation campaign. That is why you should use the strengths of your community to promote your campaign and achieve your goals.
For example, to appeal to the generosity of their community, the Franco-ontarienne Foundation sent out a dedicated newsletter. It provided a brief reminder of the importance of fundraising and the latest projects that have been completed thanks to donations.
Another good practice of the Foundation is the integration of the donation campaign link in the email signatures of members. It's an easy trick to implement, and it enables you to easily inform your supporters and potential donors on a massive scale.
Relying on your community is also a good practice shared by Guillaume Saint Denis from the Quebec Federation of Slackline and Highline. During a recent exchange, he explained to us that he takes advantage of the different activities with the members of the Federation to promote the donation campaign:
"For us, donations are a major first. Before publicizing our campaign to the general public, I first wanted to inform the members of the need for funds and the launch of this donation campaign."
If you have a website, it only takes a few clicks to easily add your donation campaign as SOS Domestic Violence did: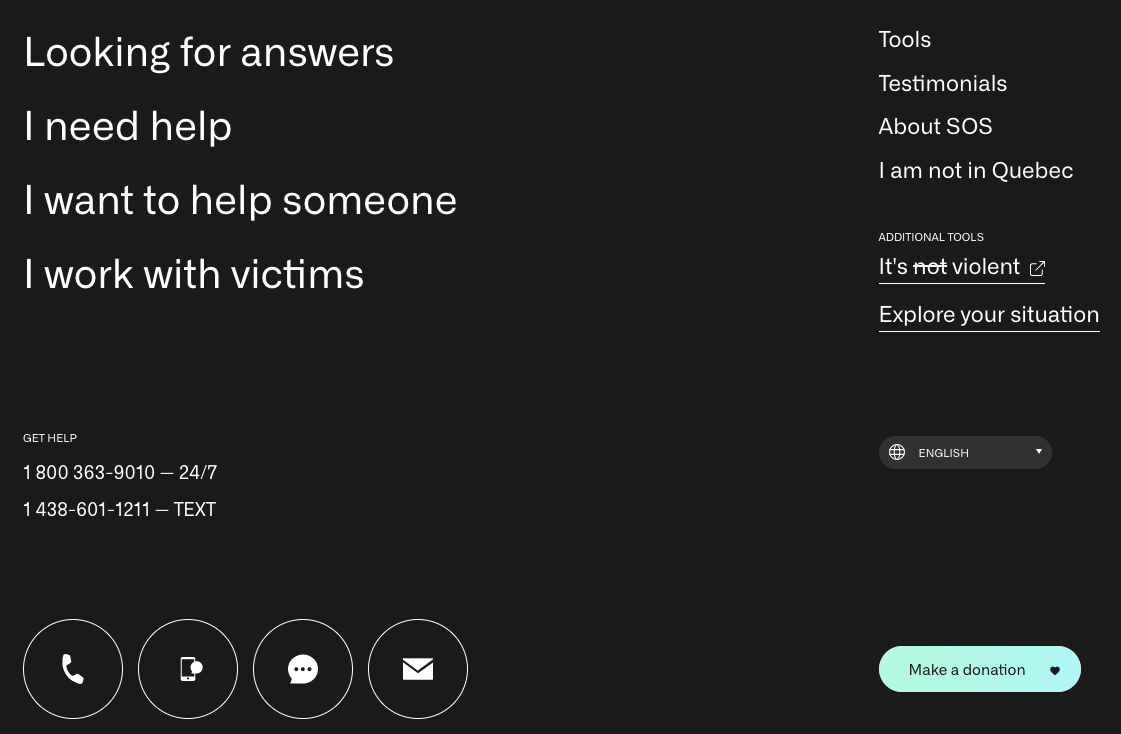 Social networks, website, newsletters.... all channels are good to give you visibility!
4 - Set up recurring donations
Recurring monthly donations have been on the rise for the past 2 years. In 2020, they increased from 16% to 17% of all online donations, and are expected to continue to grow.
Online donation campaigns, especially via Yapla, enable monthly donations. They provide a more regular source of income for the association.
This was the choice of the South Bank Volunteer Center: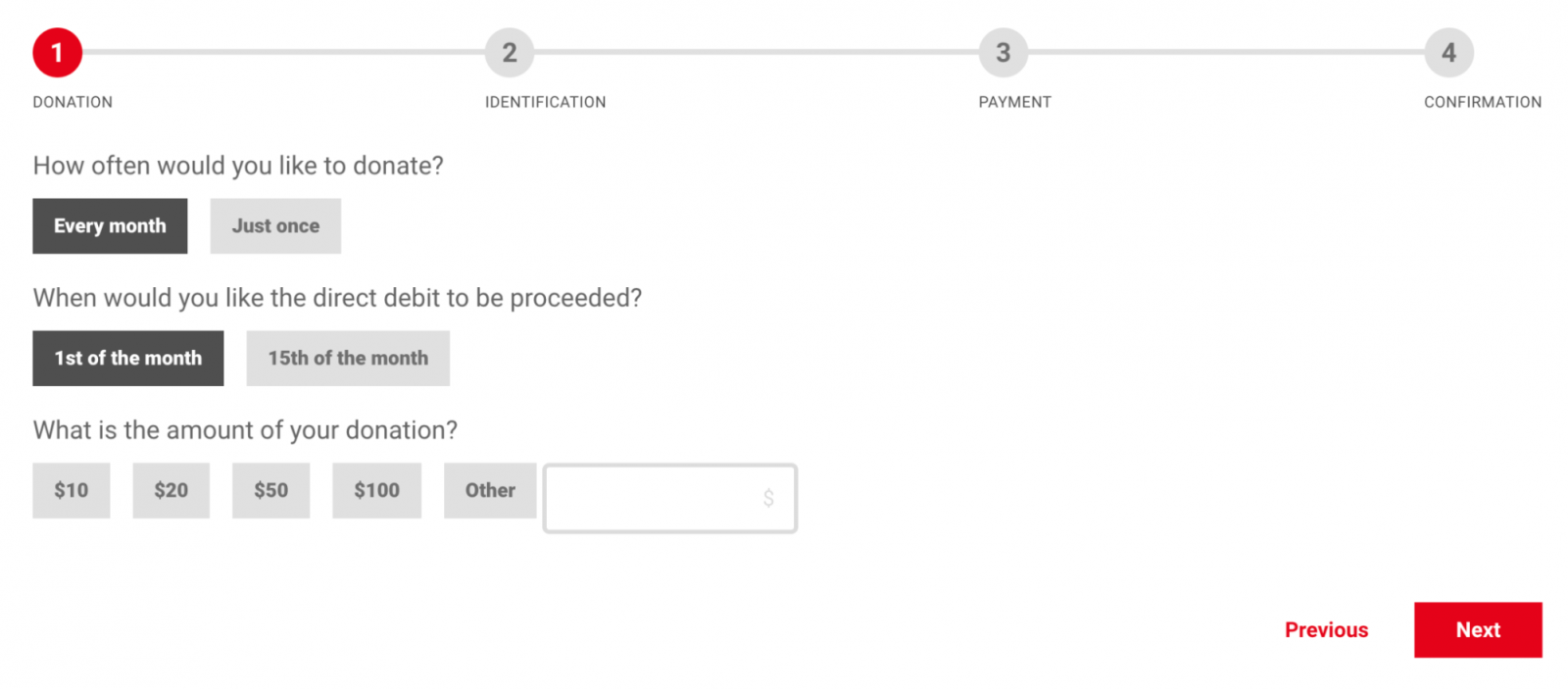 5 - Automate your tax receipts and acknowledgments
If your organization is authorized to send tax receipts, you are probably used to editing and sending them one by one to your donors.
The Franco-ontarienne Foundation has chosen to automate the editing and mailing of its tax receipts with Yapla. Marc Chenier explains: "The information we receive from donors at the source allows us to issue the tax receipt, in real time, within seconds of the donation being registered."
This is also how the C.I.E.L Foundation (Center for Emotional Intelligence Online) delivers all its tax receipts. Moreover, thanks to the configuration of the donation campaign, the donor has the option to select the type of receipt they wish to receive.. All at the time of the donation is made: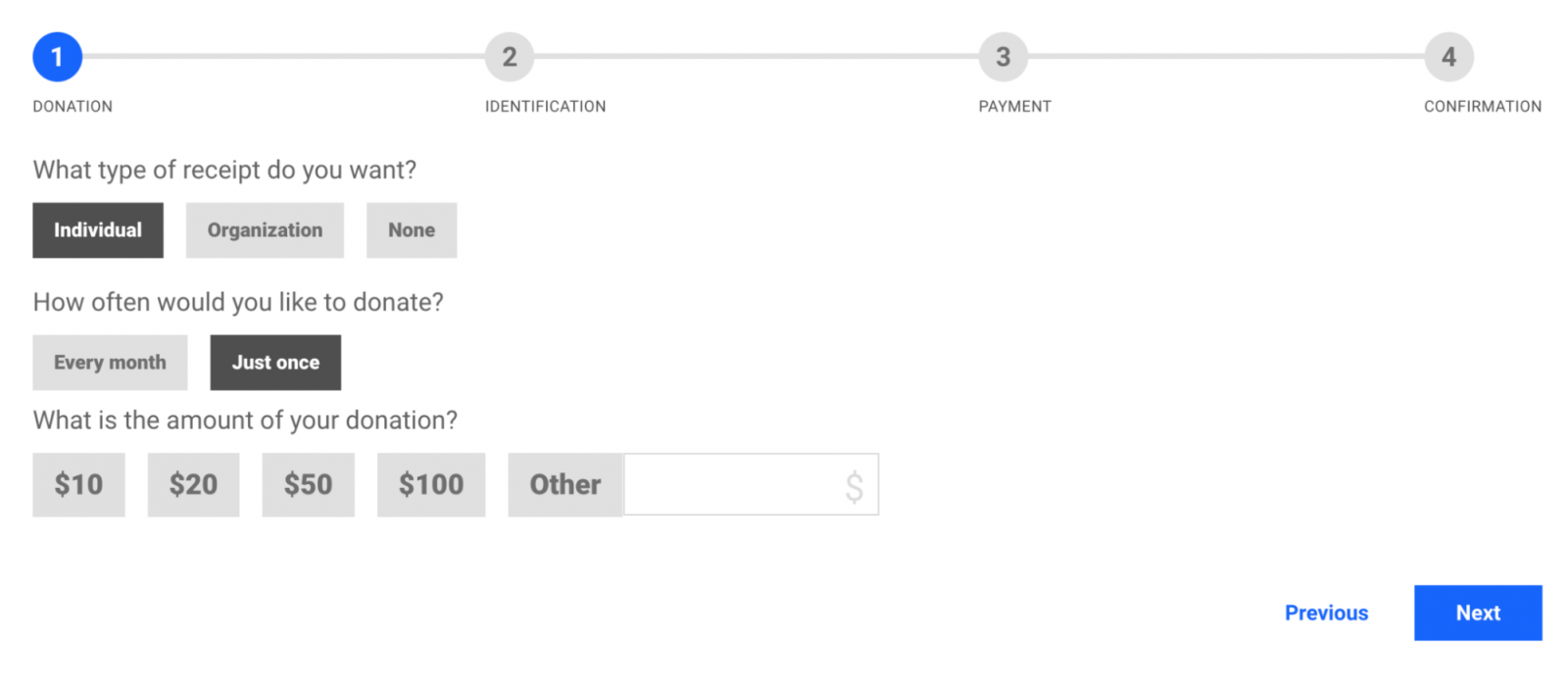 To find out if your organization is eligible to send out tax receipts, check here on the government website.
6 - Say thank you to your donors and all those who support you
It is important to thank and express your gratitude to everybody who supports you.
In order not to miss any acknowledgments, there are automatic communications that you can fully customize in Yapla. For each donation received, a message is automatically sent to your donors.
In your acknowledgments , don't hesitate to invite your donors to share your campaign in turn!
If you ask your members to give visibility to your donation campaign, don't forget to thank them too and to keep them regularly informed of the evolution of the campaign. This will show that their support is valuable, while motivating them to continue promoting it.
7 - Draw conclusions from your donation campaign
Taking stock of your campaign is essential to identify what worked and what you can do better next time. Most importantly, the review will help you correctly record the accounting entries at the end of the campaign.

To make this task easier, Marc Chenier of the Franco-ontarienne Foundation uses Yapla's accounting feature:

"Our accounting, our contact network system, our newsletters and our social media posts are now instantaneous."
Finally, here's a little advice from Marc Chenier on how to keep track of your accounting and how to best achieve the balance sheet of your campaign:
"Be sure that the General Ledger accounts in your accounting system parallel the sub-ledger accounts of your website. This will allow you to maximize the efficiency of the software. You can also assign the access parameters of the system to each member of your staff according to their roles. Yapla is a reliable system and the traceability of operations is transparent."
Now you're ready to fundraise!
Launching an online donation campaign will multiply your chances of collecting donations. It is a widespread practice, quick, efficient and does not require special computer knowledge.
Once your donation campaign is online, it is the perfect time to awaken the creative soul within you to communicate about your fundraising. Promote the tax benefits of donating to your organization.
Finally, don't forget to thank all your supporters and evaluate the impact of your campaign so you can do even better next time!
Find out how Yapla
can help your NPO
Solène, Marketing Manager