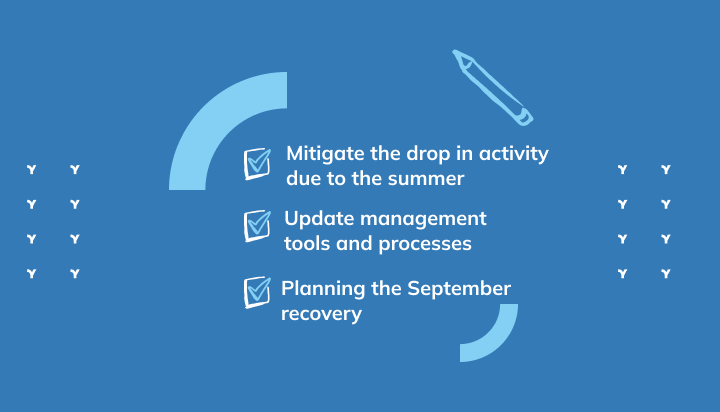 While for some NPOs, summer is a very active period, for others, it is a period marked by a significant drop in activity. Here is our list of steps to take to make the most of this slow period.
Update the processes and management tools of your NPO
Improving your toolbox and processes will undoubtedly have a very positive impact on the coming year.
Update the information and content available on your website, social media and any other public platform. This work is essential for the image of your association but also for its notoriety. For example, the SEO score of a website is directly linked to the quantity and quality of the content it contains.
Take the opportunity to check that your website is well adapted to mobile and tablet devices. Every summer, mobile visits to websites increase as we tend to abandon desktop computers.
Ensure your compliance with any new legislation. The General Data Protection Regulation (GDPR) has made a strong impression on public opinion, even though it is only in effect in Europe. Conduct an audit of your current data management in order to meet the expectations of your members, donors or volunteers. Finally, if you are sending tax receipts to your donors, don't forget to update the document template according to the Canada Revenue Agency's May guidelines.
Expand your management toolbox.
Take a look at your administrative processes and identify any difficulties or time wasters. Do not hesitate to contact us if you need help, we will be happy to guide you through the tips and best practices free of charge!
Mitigate the summer slump
Summer is fortunately inevitable, but you still need to continue to develop your organization. Here are a few examples of steps that will enable you to mitigate the summer slump, stabilize revenues and continue to make your NPO shine:
Spread out your NPO's revenues over the year by enabling your donors to make monthly donations or your members to join at any time of the year. For Yapla users, you can simply configure the Recurring Donations and Floating Memberships features.
Launch a summer campaign or organize outdoor activities. Golf tournaments are a classic and still very popular.
Collaborate with an organization that naturally benefits from visibility during the summer, such as the Tim Horton's Foundation with its childrens' camps. Such a partnership will, of course, pool resources as well as increase visibility at a time when the general public is less tuned in.
Implement summer working hours.

Planning the September restart
Like every year, the return to work after the summer is going to be busy. Take advantage of the calm during the summer to move forward on important issues.
Find out about the latest development and management techniques
Share any opportunities (volunteer or job) now to ensure that you won't be short-staffed when the September comes. Use social network platforms or volunteer action centers to promote them.
And finally, don't forget to enjoy the summer! The whole team wishes you a wonderful vacation and assures you that we remain available all summer to help you make your daily life easier.
Find out how Yapla
can help your NPO
Book your personalized Yapla Demo
Solène, Marketing Manager