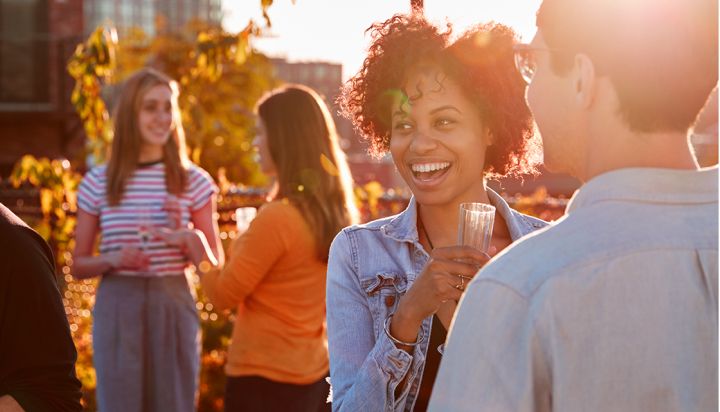 Organizing an association event requires well-oiled logistics to ensure its success. However, even with careful planning, last-minute unexpected events can arise. Whether it's a weather change, equipment failure, or volunteer cancellations, these unforeseen circumstances can quickly cause stress and jeopardize the event's success. Here are some tips to help you anticipate and cope with unexpected events, ensuring a memorable experience for your participants, volunteers, and organizing team!
1. There are no problems, only solutions: Stay positive!
First and foremost, regardless of the unexpected event you have to face, remember to maintain a positive attitude and be flexible in finding optimal solutions.
Keep in mind that there is always one or even several solutions. No plan or program goes exactly as planned. With the help of available volunteers and by adapting the event organization accordingly, you will be able to stay on track!
By adopting a proactive approach, you may even be able to turn unexpected events into opportunities to improve your event. In any case, your event will be a valuable learning experience for your organization.

2. Safety: An Absolute Priority for Your Association Events
The safety of your participants must be your top priority when organizing your association event. It is essential to anticipate safety-related unexpected events and implement solutions to address them. Here are some ideas for easy actions to enhance the security of your event.
Various safety-related unexpected events can occur, such as injuries, fires, intrusions, or thefts. It is important to keep in mind that as the event organizer, you are responsible for the safety of the participants and the organizing teams on-site. Therefore, it is crucial to implement solutions to anticipate and manage these unexpected events effectively. Consider the following solutions:
Prepare one or even several first aid kits: For each of your association events, make sure to have a first aid kit readily available. It should contain basic medical supplies such as bandages and compresses. If you haven't planned for it, head to the nearest pharmacy to equip yourself with the necessary supplies.
Develop an emergency plan: You should create an emergency plan that includes clear procedures for emergency situations.

Identify potential risks for your event (fire, injuries, etc.),
Designate a person or a group responsible for implementing the emergency plan on the event day,
Define the roles and responsibilities of each team member in case of emergency,
Familiarize yourself with the evacuation plan of the event venue and ensure that all participants and staff are informed of the procedure.

Use security guards: Hiring security guards can be an effective solution to prevent intrusions and thefts and ensure the safety of participants. The guards should be trained to handle emergency situations and be able to communicate effectively with participants and staff.

3. Managing Volunteer and Staff Shortages on Event Day
Last-minute cancellations from volunteer teams can happen for various reasons. To stay on track, it is important to know how to manage the lack of manpower to ensure the success of the event!
Recruit last-minute volunteers
By using Yapla's newsletter functionality, you can send a message to all your contacts or a specific target group to request additional volunteers.
You can also contact other associations or volunteer groups to ask for assistance.
Upon the arrival of new recruits, remember to provide clear instructions to the volunteers to explain their roles and responsibilities.
(Re)Prioritize Tasks
In the event of a volunteer or staff shortage, it is crucial to (re)prioritize tasks to ensure that essential aspects of the event are covered. Identify the most critical tasks and reallocate available resources accordingly.
If certain tasks cannot be completed due to a lack of personnel, look for alternatives or workarounds. For example, you can seek assistance from event participants or partners to fill in temporary gaps.

Optimize Organization with Available Personnel
When you have fewer staff members than anticipated, it is more crucial than ever to optimize event organization with the available personnel. It is important to communicate with team members to determine their skills and availability, and then assign them to positions where they can be most helpful.
It is also important to adapt the event organization based on the number of available personnel. For example, if you have fewer staff members for ticketing, you can consider encouraging participants to purchase tickets online in advance or through a QR code at the entrance. This will free up volunteers to assist with event reception.
4. Adjust Event Logistics at the Last Minute
Communicate Program Changes to Your Team
When faced with unforeseen circumstances during an event, it is often necessary to adjust the program accordingly. It is important to find agile ways to adapt the program in order to maintain the best possible experience for participants.
Unforeseen events may require more or less significant program adjustments. Therefore, it is important to inform the organizing team as it impacts their mission and they will need to provide new information to participants.

Inform Participants of the New Program
Remember that minor changes may go unnoticed by participants, and it is preferable to focus on major changes that will have an impact on their overall experience. However, in the case of a significant program change that you deem necessary to communicate to participants, it is important to plan for clear and effective communication. This can be done through email if the change occurs before the event day, or through an announcement if the change occurs during the event.
It may also be beneficial to provide compensation if the unforeseen event alters participants' experience, such as offering a complimentary drink or a discount for the next event. For example, if you are organizing a music festival and a performer cancels their appearance at the last minute, it can have a significant impact on the satisfaction of participants who paid to see that artist. In such a situation, it could be useful to find a way to compensate the participants. You could offer a free drink to each participant or provide them with a discount for the next event you organize.
If you have chosen Yapla to sell your tickets, you can use the newsletter feature to inform your participants of any changes.
5. Dealing with Last-Minute Equipment Failures
You have likely planned technical equipment for the event day, such as sound systems, lights, computers, or projection devices. Unfortunately, it sometimes happens that these equipment fail at the last moment. Therefore, it is crucial to have a backup plan to handle such unforeseen circumstances.
Prepare Backup Equipment for Malfunctions
Whenever possible, we recommend having backup equipment in place to address last-minute malfunctions. This may include spare microphones, backup projectors, additional speakers, etc.
It is also important to ensure that these backup equipment are tested and ready to be used if needed.

Take an Inventory of Equipment Before the Event
It is important to conduct a comprehensive inventory of all the equipment needed for the event before the event day. This will help identify any shortages and address them before the start of the event.
Keep Quick Fix and Repair Tools Handy
In addition to backup equipment, it can be useful to have tools for quick repairs in case of malfunctions. This may include screwdrivers, spare cables, fuses, etc. These tools will enable you to quickly resolve minor issues that may arise during the event.
By preparing backup equipment, conducting a thorough inventory before the event, and having tools for quick repairs, you will be better prepared to handle last-minute equipment failures and ensure the success of your nonprofit event!

In summary, be ready to face the unexpected in order to better anticipate and manage it.
In general, organizing an event requires efficient logistics and careful planning to ensure its success. However, it is also important to remain open to unforeseen circumstances that may arise despite all the preparation efforts. The safety of participants and the organizing team should be an absolute priority!
It is also crucial to anticipate and manage potential equipment failures or personnel shortages that may occur on the day of the event. This can be done by ensuring you have a competent team and a solid action plan in case of emergencies.
Implementing an online ticketing system will help minimize uncertainties in ticket sales and ensure efficient entry management.
Ultimately, the key to a successful event lies in the positive mindset and agility with which unforeseen events are handled. We hope this article has inspired you in organizing your future events.
Ready to take action?
Let's get started!
Solène, marketing manager