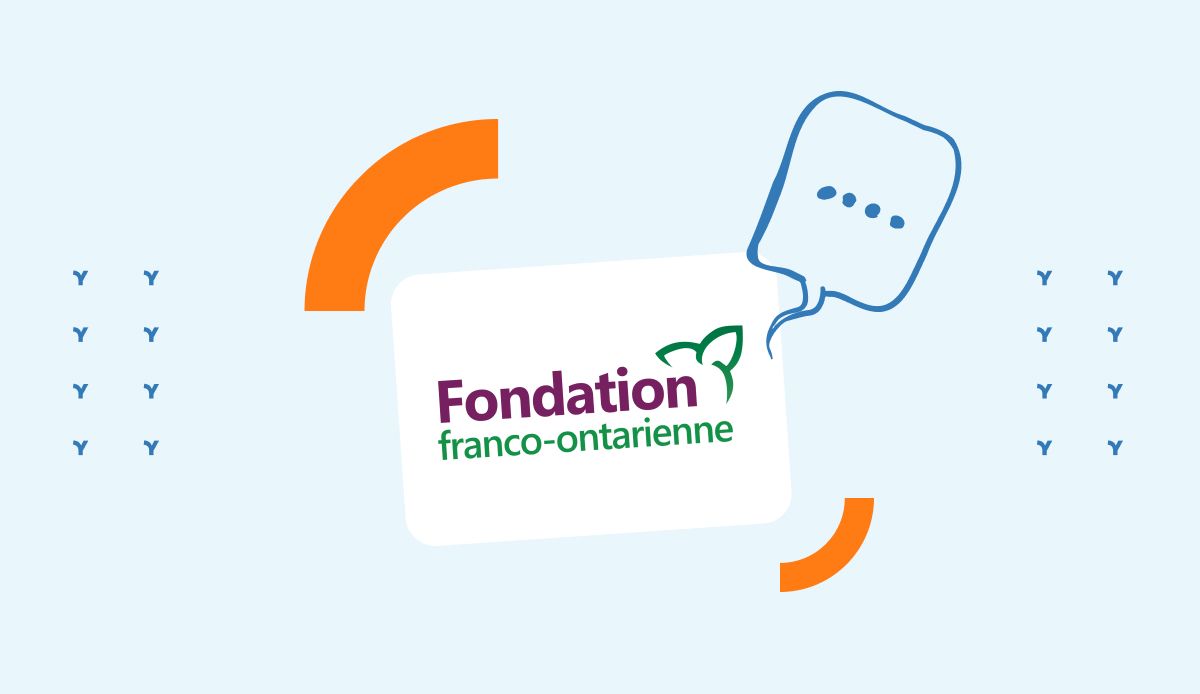 Today, a discussion with Marc Chénier, President of the Fondation Franco-Ontarienne (FFO).
He will be giving us a quick overview of his foundation—in existence for more than 30 years—to tell us about his adventure with Yapla and how the platform makes running his foundation easier on a daily basis.
Yapla: Good morning, Marc!

Marc: Good morning!

Yapla: Thanks for agreeing to answer our questions today. We're going to start with the standard questions. Can you give us a little history of your foundation?

Marc: Sure, I'd be happy to. I'm Marc Chénier, director of Ontario's francophone foundation which was founded more than 30 years ago. We are involved in everything that concerns the francophone community in Ontario: the arts, culture, science... all the normal spheres of business.
We contribute to funds, for example, for families who have helped advance Ontario's francophone community and we have over 60 endowment funds to date, including our Action Fund which provides financial support for all kinds of activities that promote the francophone community in Ontario throughout the year.
Globally, we help all the organizations that promote the francophonie, the international francophone community, such as in the performing arts, for example. In the context of a pandemic, a lot of investment must be made in that area and the foundation provides support in that respect.

Yapla: Is your action fund directly linked to the foundation?

Marc: Yes, depending on the year and the amount of donations we receive, we distribute between $80,000 and $500,000 every year.

Yapla: It's a proper action fund, then!

Marc: That's right.

Yapla: Out of those 60 endowment funds, do you have an idea of how many members you might have? I would imagine that, after 30 years, it must be a big number!

Marc: We even have lifetime members! We have different classifications of members, almost 4,600, and in the last 30 years we have had as many as 41,000 members on our member list at one time.

Yapla: That's amazing! Do they all use Yapla? (laughing)

Marc: That's exactly why Yapla is such a big help to us! Despite the decrease in numbers due to COVID, our donations have increased and we've been able to reach new members thanks to our new Yapla website.

Yapla: Great to hear!

Marc: It sure is! Our platform is now more solid, with a CRM and a great overview of our foundation's membership, which is a big plus.

Yapla: That leads nicely into my next question, Marc. How did you find out about us and the Yapla platform?

Marc: We learned about Yapla through another francophone organization in Ontario, the Assemblée de la francophonie de l'Ontario, which works to support the organizations that promote the francophonie in Ontario.
We successfully made the digital shift with respect to our annual conference, and the different educational and promotional activities that we organize throughout the year.
Yapla was exactly what we needed, especially with respect to our donors, managing donors and events.
We were in the same boat as the Assemblée de la francophonie so we decided to simply sign up on Yapla, start using the platform for free, start working with it and then go from there.

Yapla: That's what we like to hear! That other organizations are recommending Yapla!

Marc: Being able to use the platform for free from the start was great because it allowed us to assess our needs and know the ins and outs, all the possibilities... it made the decision even easier.

Yapla: Just so our readers know, can you tell us how long you've been using Yapla?

Marc: We really started using it incrementally. We started with the free version and moved up to the paid version, increasing our plan level every time until we found a balance. All of our staff has received training and now knows how to use Yapla because they were involved in the process from the start.
For example, we set up our website with the tools that Yapla offers and, to make the final tweaks, we requested the Onboarding service (and their experts) to help us. I just have to say that your technical support is outstanding.
We have been fully operational for almost two months now and Yapla does everything for us, which saves us time and money.
"Yapla does everything for us, which saves us time and money."


Yapla: It's great when we interview people who, like you, went all the way from using our free version and then, little by little, moved up to the next levels until you had everything you were looking for. Is one of your objectives to continue using Yapla?

Marc: I can tell you that we wouldn't have established the objectives we have without Yapla's help. For the time being, our goal is to increase our number of donors. We would also like to communicate with them more, and now we have the perfect tool for it.
We can target members, adapt content just for them, and we know that in the future, specifically for donations, everything will happen in just a click.
So it's important for us to transition to digital and we are very excited to see what's in store for 2021.

Yapla: Those are definitely great things to be working toward, Marc, and we are excited to see how the Fondation Franco-Ontarienne grows over time!
Thank you for taking a few minutes to talk with us and explain your journey. We wish you the best. Take care until next time.

Marc: Thank you to you and the Yapla team!