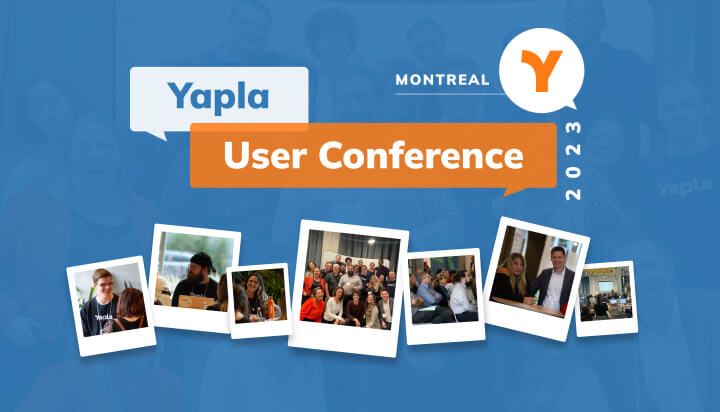 On October 24, 2023, we had the pleasure of bringing together the Yapla community at our annual User Conference in Montreal. This edition focused on event management and community engagement. Together, we celebrated the advancements of our platform, discussed your challenges, and shared the latest insights and advice from our expert speakers. Here's a summary!
The Future Horizons of Yapla
By Pascal Jarry, Founder and CEO of Yapla.
This year, we not only celebrate the tenth anniversary of Yapla but also a significant transformation of our platform. Wondering how we will continue to make your daily tasks easier? Here's a summary of the future horizons of Yapla.
Yapla Key Figures, 10 Years Later
Actively present in 3 countries: Canada, France, and Belgium.
45,000 nonprofits equipped with a Yapla account.
An ecosystem of 50 contributors fueling our dynamics and success.
$325,000,000 raised by associations.
500,000 payments processed in the last year (1 payment every minute).
5,000,000 conversions for our clients (Memberships, registrations, donations, etc.).
One of the world's largest banks, Crédit Agricole, present in the share capital.
New Era, New Aspirations
Big announcement: Yapla is entering the Italian market.
Our ambition: Equip 1,000,000 nonprofits worldwide.
Our strategy: Offer a platform known for its simplicity, functional richness, and quality customer support.
Our mission is to assist nonprofits in making their daily lives easier.
85% of customers use our free offering at 100%.
Our Vision: The Future is All-in-One Solutions
We offer the ability to collect payments for free through the voluntary contribution model.
We are heavily investing in the Events feature: a mobile application will soon be available to track registrations and validate tickets.
Cakemail is being integrated into Yapla to expand your toolkit and strengthen your email marketing strategy.
Payment and accounting function improvements are prioritized to connect you with your bank.
User experience is at the heart of our developments to provide more freedom to programmers using Yapla.
Among the more technical updates, we offer a new Custom Data module with the Data application, allowing you to use GraphQL and Vue.js.
AI will transform the software industry, and we have already initiated projects to integrate AI into Yapla.
Finally, we believe the future lies in all-in-one solutions, and we are working on several fronts in this direction:

New native features.
Connectivity: Export, API, Webhook.
Marketplace: External integrations.
In summary, Yapla is built on 6 values, including innovation and commitment. We commit daily to make your life easier with the best available technologies.
Maximizing Engagement with Cakemail and Yapla
By François Lane, CEO and Co-founder of Cakemail.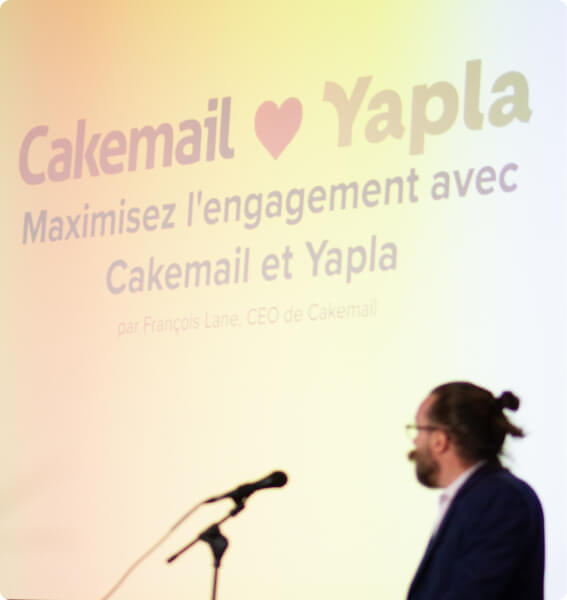 François Lane, during the conference.
Cakemail is an email marketing solution that provides effective solutions for nonprofits and businesses. We are excited to soon integrate Cakemail into Yapla's features to simplify the management of your communications and enhance your nonprofit's communication toolkit:
Cakemail offers a powerful user interface that will streamline your workflow.
Contacts in Yapla will be automatically synchronized with Cakemail.
You can take advantage of various features available in Cakemail, such as automation functions and audience management.
You also have access to several customizable email templates.
Furthermore, the Cakemail solution adheres to best practices regarding anti-spam laws and privacy protection, such as Law 25.
According to François Lane, CEO, and Co-founder of Cakemail, email marketing is one of the channels:
The ROI (return on investment) is reported to be $36 for every $1 invested.
It allows for maintaining a regular relationship with members, donors, and volunteers.
It is also an ideal tool for organizational updates, event announcements, or fundraising campaigns.
Finally, the Cakemail x Yapla partnership offers you a fantastic opportunity to simplify the management of your communications and strengthen ties with your community, maximizing your impact on event participants, members, donors, and other community members. Rest assured that we will keep you informed as soon as this new feature is ready for deployment. A smooth migration plan will be developed to ensure a seamless transition.
Event Trends: Strategies for a More Engaged Community
By Stéphanie Bourget, Executive Director of Altitude C; Laetitia Shaigetz, President of Épisode Philanthropy & Community Investment, and Célia Heidsieck, Chief Marketing and Partnership Officer (CMO) at Yapla.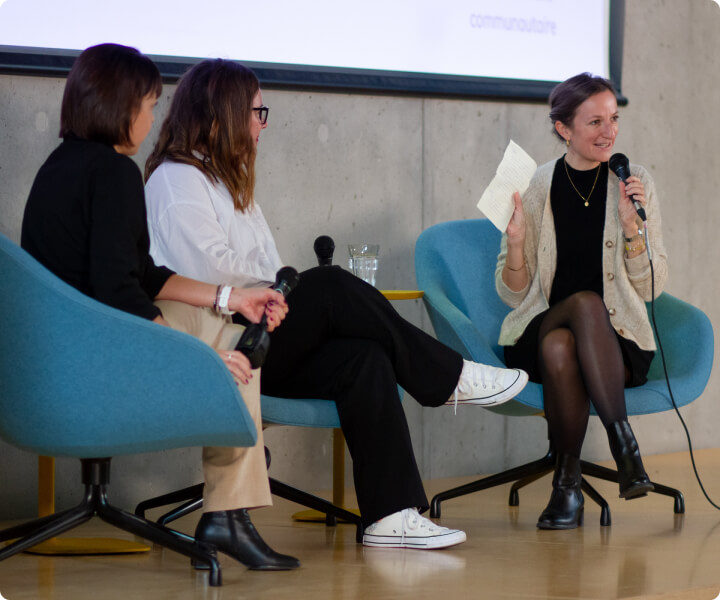 Laetitia Shaigetz, Stéphanie Bourget and Célia Heidsieck, during the conference.
Events as a Marketing and Communication Tool
While events are often perceived as an expense, they are primarily an effective communication tool that should be approached more as an investment by nonprofits.
3 Elements to Define Before Organizing an Event
Why do you want to organize an event? What is the objective?
What is your key message?
Who is your target audience?

3 Essential Event Trends to Consider
In the current context, the world generally wants to:
Travel less.
Spend less.
Understand the immediate gain of things.
It is essential to define your target audience, understand them, and tailor your communication to convince them to participate in your event.
Tips to Sell Your Events and Optimize Communications
Create momentum with a well-thought-out communication plan from pre-event to post-event.
Don't reveal everything before your event! Keep some surprises for the day to create a "wow" effect for participants and regret for absentees.
Adapt your communication channels according to your target. Avoid mass automated send-outs.
Maximize the use of video format for your communication.
Why Integrate Events into Philanthropic Strategies?
Events serve multiple objectives:
Fundraising and gaining visibility.
Diversifying the donor clientele.
Generating emotion: connecting initial donors to the cause.
Creating a sense of belonging among peers.
Events as a form of recognition.
Building a community of engaged donors.

The Sector is Becoming More Competitive: Key Figures
In the past 10 years, the number of fundraising events has doubled.
Increase in the number of soliciting organizations: on average, +276 per year.
Approximately 16,000 nonprofits classified as Charities and public foundations.
Donor habits are evolving.
Giving less individually, but giving more collectively.
New causes interest individuals.
Supporting more causes (an average of 3.3).
Almost all organizations have a flagship event.

So, How to Integrate Events into Financing Strategies?
Define and understand why you are doing it: Communicate your goals to the team and the board.
Leverage your strengths: Maximize your current activities before creating new ones.
Define the type of event based on 3 factors:

Interests of the desired clientele (their persona).
Your organizational execution capacity.
The capacity (financial and mobilization) of your network.

Transition occasional donations to recurring ones.
Analyze your counterparts: Who are your competitors (sector and territory)? What are their events? Evaluate team vs. results.
Find your uniqueness: How will you be distinctive? Simply or extravagantly? One tip: stay true to yourself!

Yapla Events Enriched: New Features for Successful Congresses
By Catherine Thibault, Customer Success Director at Yapla.

Yapla Events has always been at the core of Yapla's features. The goal of this new addition is to provide you with highly customizable tools to host your congress-type events and make you more productive.
Programming: A New Feature, a Dedicated Module
This new module expands your possibilities, especially for events spanning multiple days and offering various activities through the new concepts we have introduced to the Events feature:
Time block management, the concept of workshops, conferences, or sessions to build your schedule.
The ability to offer different workshops simultaneously (with limited seating if necessary).
Assign speakers to appropriate time slots.
Provide a participant login space for managing registrations and schedule choices.

The Impact of This Innovation is Twofold
A better experience for you and your participants:
No more double data entry.
Offer even more professional events.
For your participants, it's an enriched, more intuitive experience tailored to their needs. Registering for various workshops over multiple days is now a breeze.

Yapla Professional Services Help You Prepare for Your Congress
Our Professional Services team is here to assist you in preparing for your congress. Whether it's advising on the best way to handle your specific needs, configuring processes on the platform for you, creating a congress site that will charm your community, or simply training your team to use the new features, you can rely on us.
The congress functions are available with the Galaxie package. To use it or learn more, contact the team at hello@yapla.com, and we will ensure you have the right support for your needs.

Combining Performance and Communication in a Unified Equation
By Jean-François Dommerc, President of Riposte.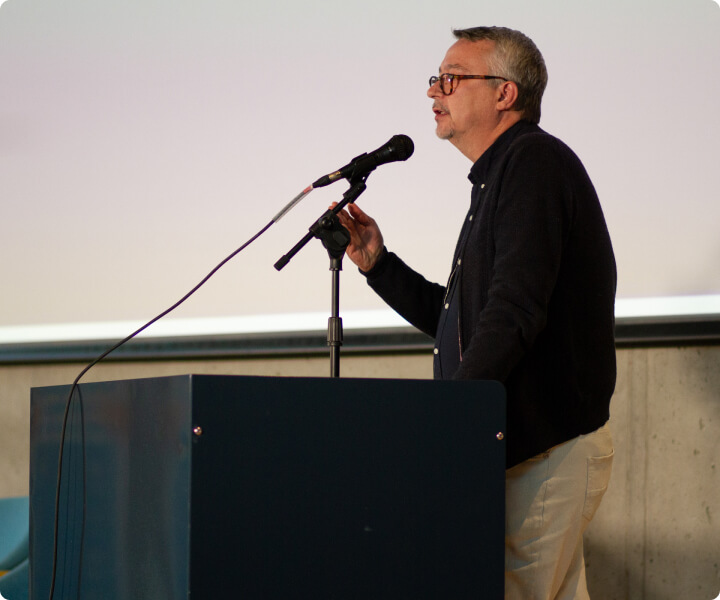 Jean-François Dommerc during the conference.
"Performance analysis helps inform your communication strategy to connect achieving your business objectives with the real needs of your community." - Jean-François Dommerc, President of Riposte
Why Integrate a Performance Vision into Your Communications?
Base your decision-making on facts.
Better understand the needs of your stakeholders.
Inform your internal processes and become agile.
Stay focused on your objectives.
Grow the digital competence of your team.

Where to Start to Structure Your Approach?
Centralize your data with Yapla to gain productivity and compliance.
Define clear and measurable objectives: Each of your communications should be linked to a specific goal.
Know who you're talking to for adopting the right tone: Defining your personas is an essential exercise to develop your brand message.
Define communication pillars: These are the major themes that will be addressed through your communications in connection with your objectives.
Define the function of your communication channels: Each channel has its own DNA and function in a communication strategy.
Systematize the process with a methodology:

Meeting schedule
Frequency per channel
Content per channel
Responsibilities
Performance analysis: monthly, quarterly, annually.
Workshops
Participants in person had the opportunity to take part in one of our two workshops, providing an exclusive insight into best practices for:
Workshop 1 | Sharing Success: What do you do that adds the most value to your members, donors, or activity participants?
Participants shared successful strategies, such as interactive workshops based on members' needs, science popularization contests to expand their audience, and the skillful use of influencers on platforms like Twitch and Discord. The automation of registrations was also highlighted, simplifying membership and event processes.
Workshop 2 | Best Practices and Tools to Make Your Communication Content Engaging!
Nonprofit managers are often tasked with managing several things, including communication, without necessarily being experts in the field. But it's not always easy to have attractive and engaging content: enticing your donors to maintain their donations the following year and attract new ones, generate more registrations for your events, etc. The goal of this workshop was to take a moment for everyone to share their best practices in communication, writing, visual creation, and targeting.
In Summary
This second edition of the Yapla User Conference was marked by significant advancements and promising partnerships.
We want to extend a big thank you to all the speakers who shared their valuable insights with you:
Pascal Jarry, Founder and CEO of Yapla.
Stéphanie Bourget, Executive Director of Altitude C.
Laetitia Shaigetz, President of Épisode Philanthropy & Community Investment.
Célia Heidsieck, Director of Marketing and Partnerships at Yapla.
Catherine Thibault, Customer Success Director at Yapla.
François Lane, CEO and Co-founder of Cakemail.
Jean-François Dommerc, President of Riposte.
We hope that our conferences have sparked your inspiration and given you good ideas for your organization. We look forward to welcoming you to our upcoming initiatives. See you soon!
Solène, marketing manager.