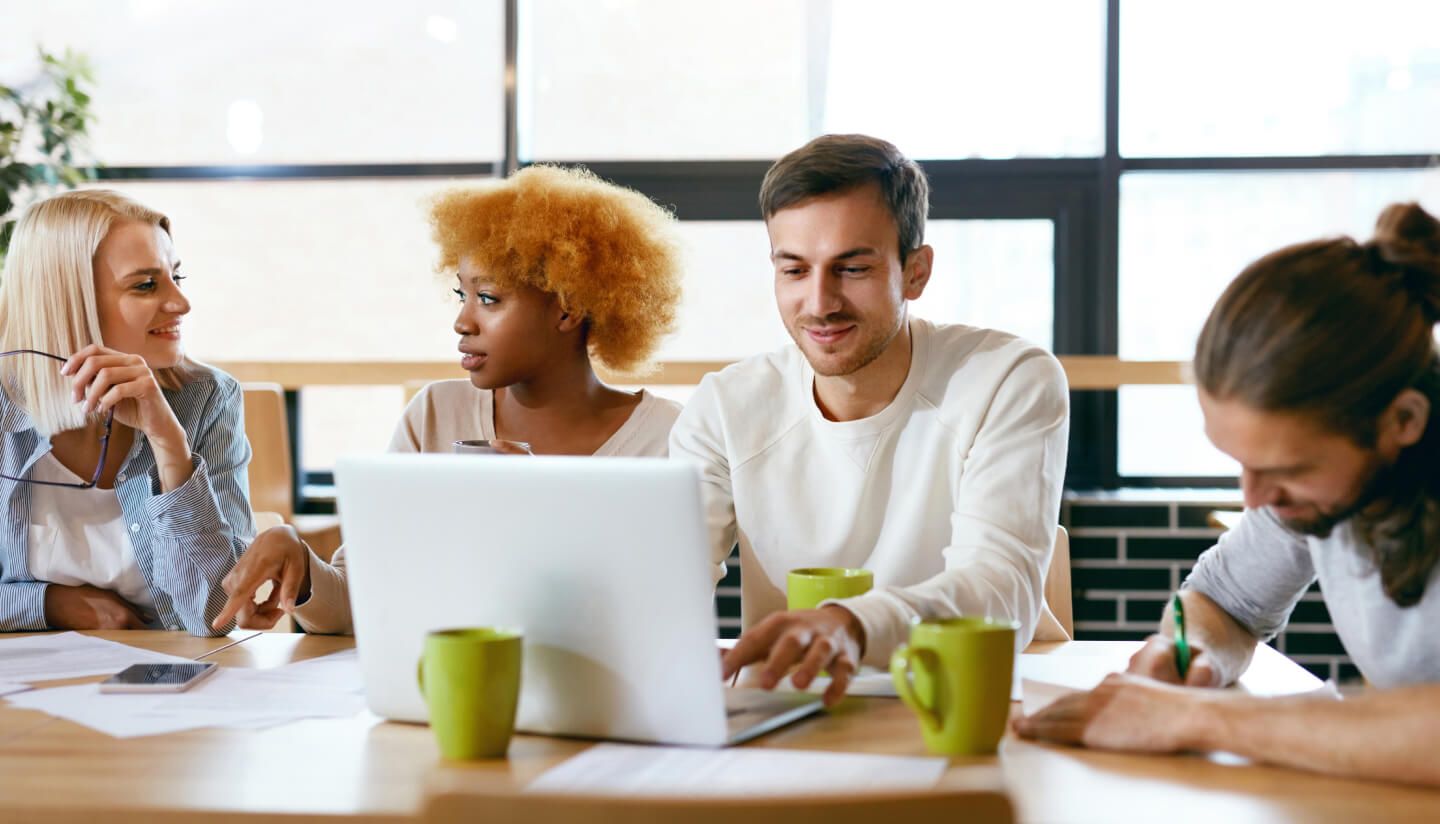 CRMs are essential for nonprofits to manage and improve their interactions with members and other stakeholders. However, having accompanied many organizations in this process, our experts affirm that it is a longer and more complex operation than it seems. This is why we are providing you with eight steps to prepare and successfully adopt the new CRM for your nonprofit!
CRM for nonprofits, what are we talking about?
A CRM (customer relationship management) can be defined as a tool that helps manage interactions with members and other stakeholders (partners, donors, event attendees, etc.) of a nonprofit organization.
The main objective of a CRM for a nonprofit is twofold. It allows you to improve engagement with your community and the satisfaction of your stakeholders. At the same time, it gives you an overview of your data, a history, and a panel of features that save you time on a daily basis.
Let's take a look at our 8 steps to help you set up an associative CRM that will make a difference!
1. Clarify the objectives of the CRM for your nonprofit
Before starting the search for a new CRM system, it is essential to identify what you want to achieve with the new software.
Start by listing all the needs of your organization. This may include, for example:
Collecting online registrations and payments from members, donors, event participants, etc.
Validating membership applications for certain types of membership
Facilitating access to data for all organization administrators while being able to control and limit access according to each role
Saving time on certain administrative tasks: sending invoices, tax receipts, etc.
Performing targeted communications: reminders of membership renewals to members, thanking your donors, pre-event instructions to your participants, etc.
Ensuring compliance with the personal data of your members
Writing a specification for the CRM project of your nonprofit will help you clearly define your needs. It will always be useful if you require assistance to set up your CRM.
The implementation of a new CRM involves changes in the way your organization's teams work. It is therefore essential to support them, and for this, there is nothing better than involving them from the outset of the project.
The objective is to associate the requirements of your organization with as clear and comprehensive software/functional needs as possible. To do this, you can create a simple table like this, for example: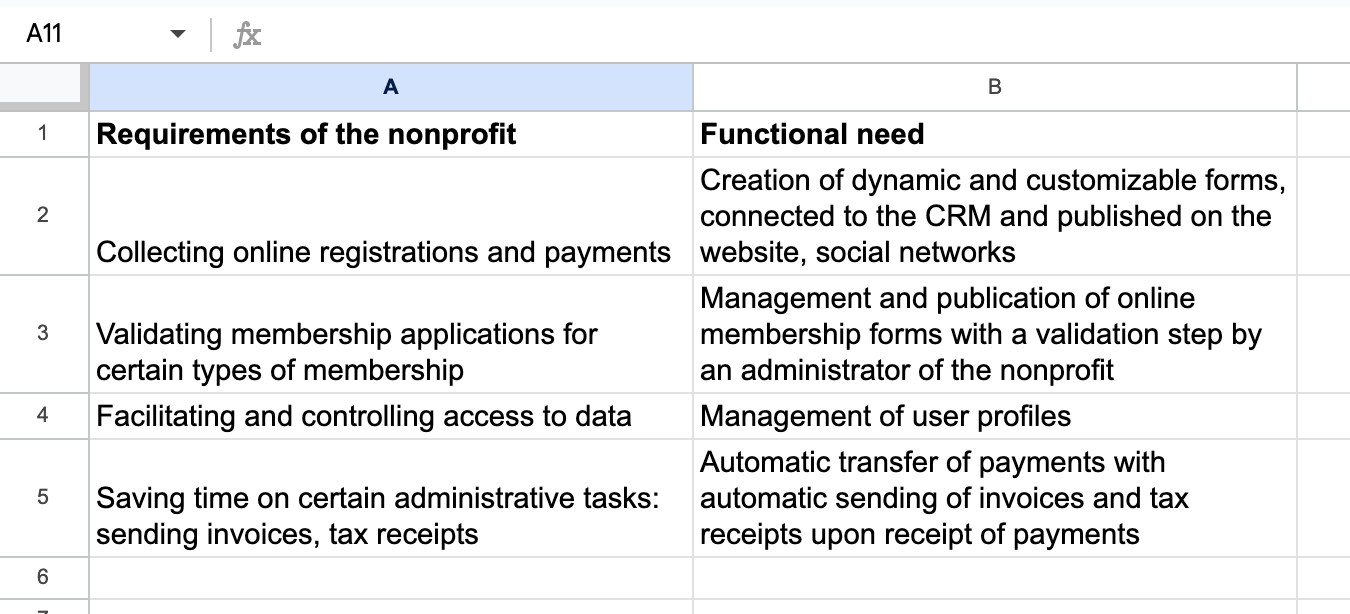 2. Find a CRM adapted to your nonprofit
In parallel with your inventory and if it is not already done, you can take a look at the different CRMs available on the market.
To help you, here is a list of criteria (not exhaustive) which you can use to compare the different CRMs on the market:
Price
Available features
Platform scalability
Ease of use
Available documentation (video tutorials, online help)
Availability of a support team to answer your questions
Availability of Professional Services to accelerate your mastering of the system, etc.
In addition, don't hesitate to take advantage of free trials or demonstrations to make sure that the CRM is suitable for your organization's needs before making your final decision.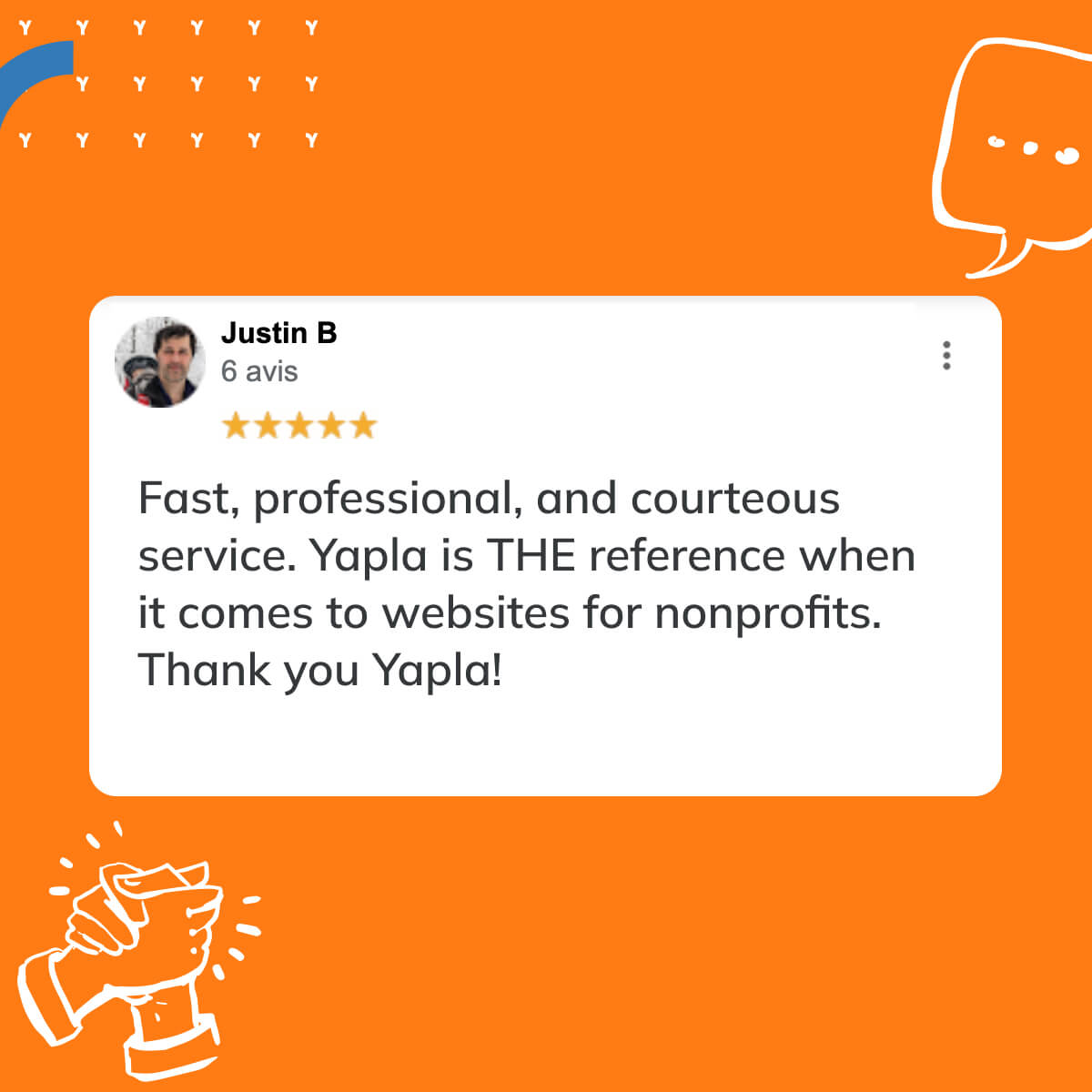 3. Test Yapla, the CRM that supports your engagement
Yapla is the all-in-one payment and management platform of reference for non-profits. Easy to set up and use, this platform allows your organization to have an effective CRM.
Yapla offers many advantages to non-profit leaders and their teams. The all-in-one aspect allows you to collect payments from your community (memberships, donations, ticket sales, etc.) as well as adopting an effective management system for your organization:
Collect relevant, secure and compliant data. You can create all the customized forms you need to collect information and/or documents, recruit volunteers, survey members, etc., all in a secure and compliant manner.
Make a difference in your community with automatic and personalized communications. You always send the right message, to the right people, at the right time: thank you messages, membership renewal reminders, information before an event, etc.
Strengthen your communication strategy and create stronger links between your community and your organization thanks to the integrated newsletter tool.
Automate your billing and management of tax receipts: with each transaction, your invoices and receipts are automatically generated and sent to the right contacts.
Yapla attaches great importance to its users and is committed to helping you succeed. If you feel stuck or need advice on using Yapla, the Yapla Help Center is there to help you. With a multitude of resources, articles, and tutorials available, you can easily find the answers you need to get the most out of the platform.
Yapla also has a team of experts available to take charge of your project.

4. Request a demo
Do you still have doubts about which software to choose? Request a demo to validate your choice.
During the demonstration, you can discover the software, how it works, and evaluate the tool's ability to meet your needs.
To make sure you don't miss any important points, don't forget to list all your questions before your demo.
Some software, such as Yapla, also offer discovery webinars of their solution. Just like a demo, this allows you to get an initial overview of the platform with the explanations of an expert.
5. Define a CRM migration strategy
To ensure a successful transition from the old system to the new one, we suggest you develop a strategy for configuring your new system and migrating your data.
Your strategy will depend on the complexity of your needs as well as the amount of data to be migrated. Depending on your situation, you will naturally gravitate towards one of these strategic approaches:
Parallel approach: Keep the old system running while implementing the new CRM in parallel. This approach allows you to compare data and ensure that the new system is working as intended. However, this often entails double the workload, not to mention the risks of confusion between the two parallel systems.
Progressive mode: You migrate data and configure your CRM in stages or phases, with each phase representing a specific part of the data. This approach allows for a more controlled migration and allows your team to focus on specific sets of data, workflows, or functional domains. It also allows for testing and validating configurations as the migration progresses. However, this approach can be more complex and may require additional coordination to ensure the success of the migration.
Direct strategy: This strategy involves stopping the old system and immediately starting the new system. This approach is generally faster and requires fewer resources. However, it carries a higher risk of data loss due to the shutdown of the old system. This approach is suitable for small, uncomplicated migrations with minimal risk to the organization.
Do you have doubts about which approach to adopt? Our Professional Services team are experts on this subject and can help you.
"Our support with Yapla has been an essential building block of our new digital strategy, which has significantly simplified our lives and provided us with a much more efficient CRM." - Vincent Montigny, member of the board of the ARCES NPO

6. Migrate your data and configure your new CRM
Your project is starting to take shape, and the adoption of your new CRM is beginning to come together. It's time for the transition!
First, you can create a migration timeline on your CRM by defining the different tasks to be completed to move forward. We suggest you to build this timeline as a team. It's a great opportunity to involve members of your team in the CRM project.
One of the main tasks is to migrate your association's data. To do this, you need to prepare the import files for your data. You need a list of the data to be migrated (your contacts, members, donors, events, etc.) as well as their typology (text, number, checkbox, date, file, etc.).
Data migration is the key to the success of your CRM project. Before migrating all of your data, perform some tests and verify that the numbers match between the source files and your CRM.
Expert tip: avoid migrating your data to the CRM during busy periods such as membership renewal. Instead, prioritize quieter periods to be able to fully dedicate yourself to the project and ensure its success.
If you need help, our experts can assist you with this delicate stage of migrating your data to Yapla.

7. Train the organization's teams on how to use the CRM
The arrival of new software is not perceived the same way by everyone. Some team members are the drivers of change while others have concerns and need support.
Training your nonprofit team to use the CRM is a critical step in ensuring a successful transition.
For example, you can establish a regular exchange point dedicated to the new software implementation project. The idea is to create a moment of exchange during which everyone can feel free to express their ideas, needs, fears, while being constructive as a team to organize the rest of the software adoption process.
Finally, you can choose to train on-site or to use the software's services to help you. Yapla, for example, offers training that accelerates the tool's adoption.

Summary for successful CRM adoption for your organization
Clarify your needs: why do you want to implement a CRM for your nonprofit?
Compare tools, test them, and don't hesitate to request demonstrations
Structure and plan the migration to your CRM, take it step by step
Involve teams throughout the process
Seek the help of experts to assist you in adopting your CRM
Do you have a project or questions?
Let's discuss it together!
Solène, marketing manager